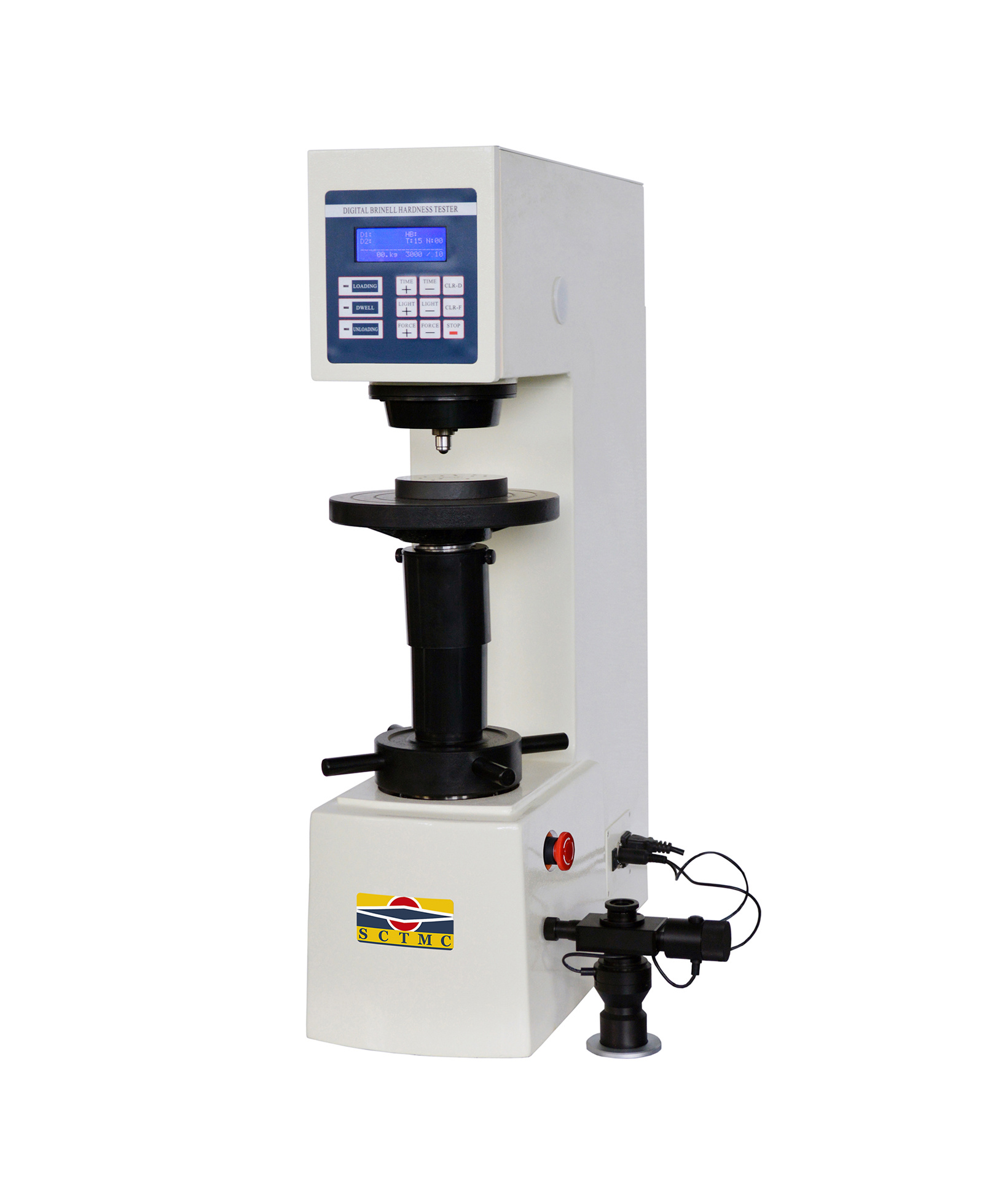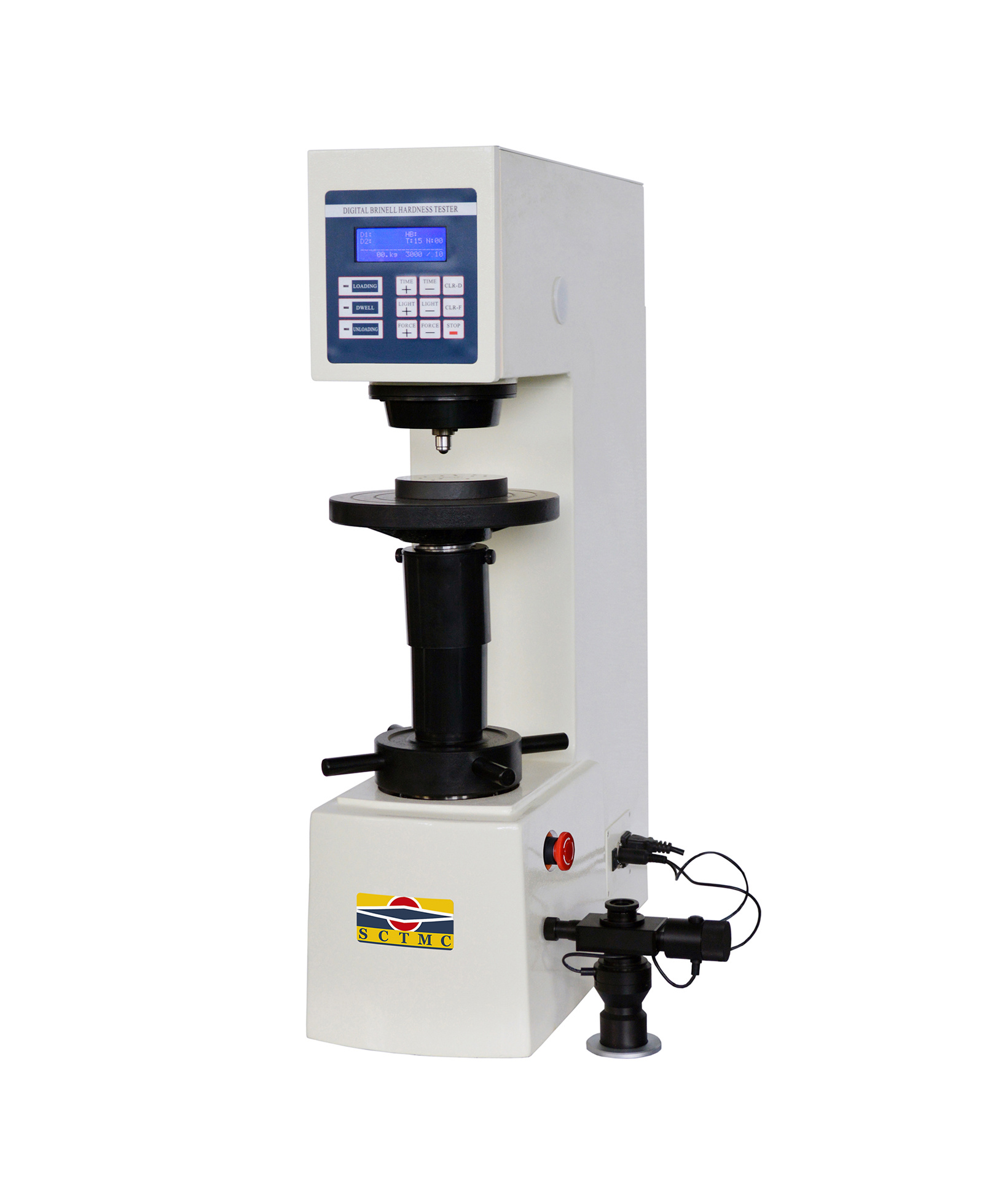 MHB-3000 Digital Brinell Hardness Tester
Main Function:
MHB-3000 Digital Brinell hardness tester is a unified product combining the precise mechanical structure and the load cell control system. The instrument adopts the motorized test force application without weights, and uses 0.5‰ accuracy compression sensor to feedback and the CPU control system to automatically compensate the test force lost during the test. With external digital measuring microscope, no need for checking the table or inputting the diagonal of the indentation, it can directly show the hardness value, test force, dwell time and indentation length. As long as press the eyepiece button after measuring the indentation length, it can automatically get the hardness value and shows on the screen, with precise reading and easy operation.
Application range:
Suitable for cast iron, steel products, nonferrous metals and soft alloys etc. Also suitable for some nonmetal materials such as rigid plastics and bakelite etc.
Technical Specification:
Model

MHB-3000

Test Force

kgf

62.5kgf, 100kgf, 125kgf, 187.5kgf, 250kgf, 500kgf, 750kgf, 1000kgf, 1500kgf, 3000kgf

N

612.9N, 980.7N, 1226N, 1839N, 2452N, 4903N, 7355N, 9807N, 14710N, 29420N

Test Range

3.18~653HBW

Hardness Reading

LCD Display

Hardness Resolution

0.01HBW

Microscope

20× Digital Measuring Microscope

Effective Field of View

6mm

Min. Measuring Unit

0.001mm

Dwell Time

0~60s

Max. Height of Specimen

205mm

Throat

130mm

Power Supply

AC220V,50Hz

Execute Standard

ISO 6506,ASTM E10,JIS Z2243,GB/T 231.2

Dimension

545×235×755mm,

Packing Dimension: 650×435×1020mm

Weight

Net Weight: 130kg,Gross Weight: 160kg
Packing List:
| | | | |
| --- | --- | --- | --- |
| Name | Qty | Name | Qty |
| Instrument Main Body | 1 set | 20× Digital Measuring Microscope | 1 pc |
| Ф2.5mm, Ф5mm, Ф10mm Ball Indenter | each 1 pc | Large Plane Test Table | 1 pc |
| Small Plane Test Table | 1 pc | V-shaped Test Table | 1 pc |
| Hardness Block 150~250 HBW 10/3000 | 1 pc | Hardness Block 150~250 HBW 5/750 | 1 pc |
| Fuse 2A | 2 pcs | Power Cable | 1 pc |
| Anti-dust Cover | 1 pc | Inner Hexagon Spanner 3mm | 1 pc |
| Usage Instruction Manual | 1 copy | | |