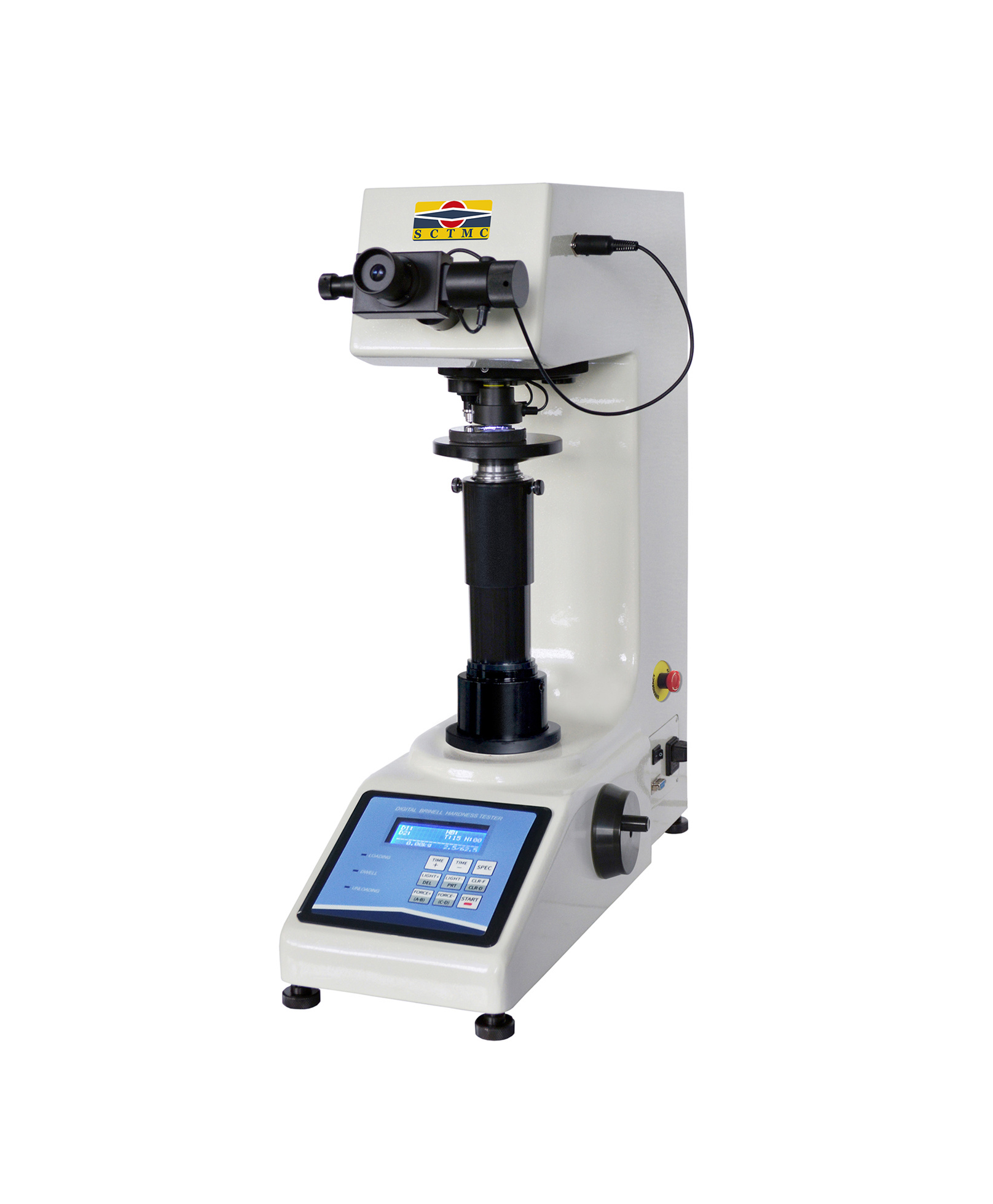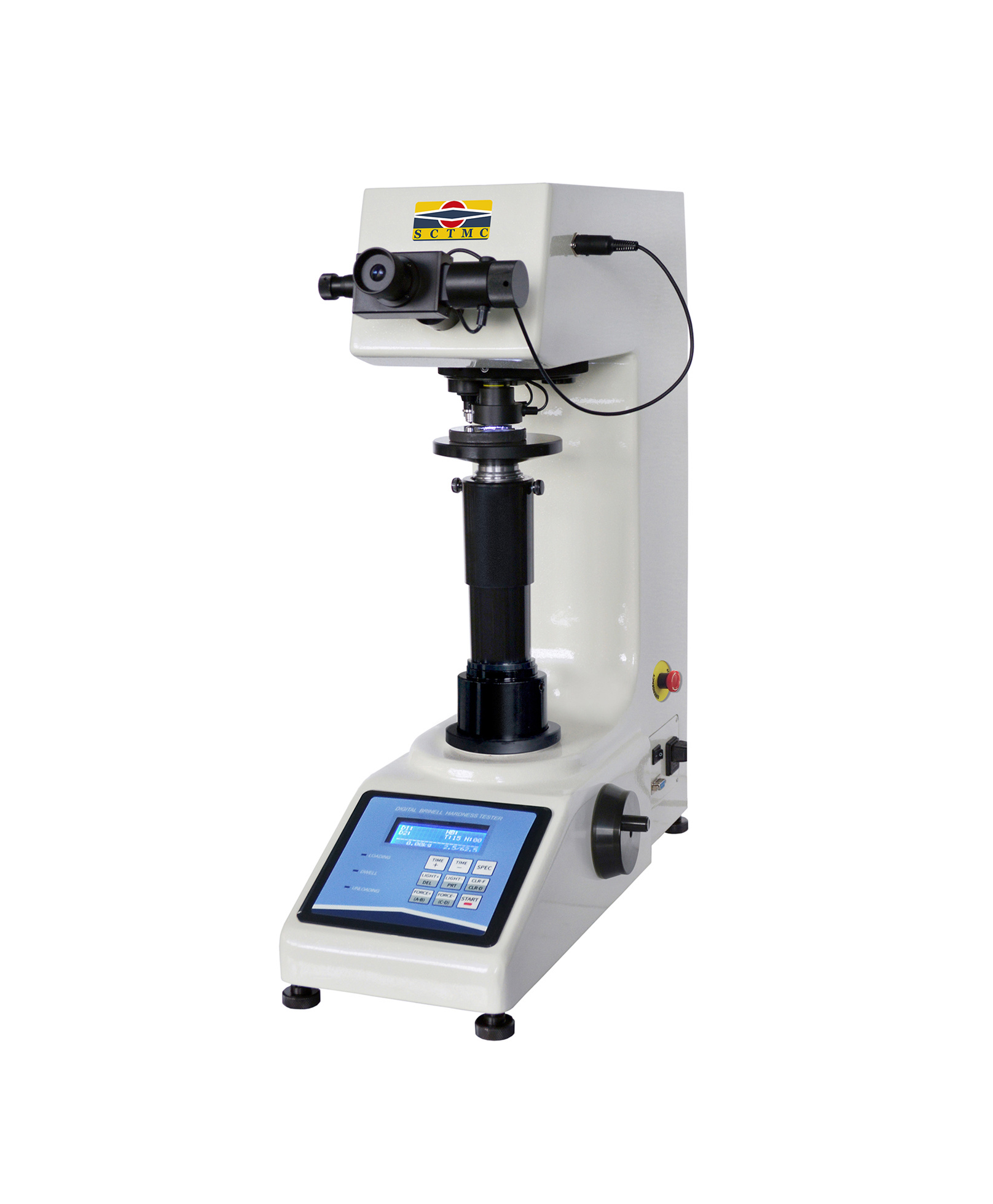 601MHB Digital Brinell Hardness Tester
Main Function:
601MHB Digital Brinell hardness tester is a high-tech and new product combining the optics, mechanic and electrics features, with a novel and pleasing appearance, direct-viewing display, stable performance and good reliability, hence, it is an ideal instrument for the testing of low load Brinell hardness. The instrument has 8 steps test force and 9 kinds of Brinell testing scale for arbitrary selection; With 2 sets of objectives 5╳ and 10╳ both can be used for measurement; Automatic shifting between the objectives and the indenter; Pre-set the dwell time of test force and regulate the luminosity of light source; Automatically display the testing indentation length, hardness value and testing numbers; The test result can be printed out by the built-in printer and with RS232 interface for connecting to the computer; According to the client's requirement, it can be equipped with video measuring device and CCD image automatic measuring system.
Application range:
Suitable for cast iron, steel products, nonferrous metals and soft alloys etc. Also suitable for some nonmetal materials such as rigid plastics and bakelite etc.
Technical Specification:
Model

601MHB

Test Force

kgf

1kgf, 5kgf, 6.25kgf, 10kgf, 15.625kgf, 30kgf, 31.25kgf, 62.5kgf

N

9.807N, 49.03N, 61.29N, 98.07N, 153.2N, 294.2N, 306.5N, 612.9N

Test Range

3.18~653HBW

Hardness Resolution

0.1HBW

Data Output

Built-in Printer,RS232 Interface

Loading Method

Automatic (Loading/Dwell/Unloading)

Shifting between Objective and Indenter

Automatic Shifting

Eyepiece

10× Digital Measuring Eyepiece

Objective

5× ,10×

Total Magnification

50× ,100×

Effective Field of View

50×: 1.6mm,100×: 0.8mm

Min. Measuring Unit

50×: 0.5μm,100×: 0.25μm

Dwell Time

0~60s

Light Source

LED

Max. Height of Specimen

185mm

Throat

130mm

Power Supply

AC220V,50Hz

Execute Standard

ISO 6506,ASTM E10,JIS Z2243,GB/T 231.2

Dimension

530×280×630mm,

Packing Dimension: 620×450×760mm

Weight

Net Weight: 35kg,Gross Weight: 47kg
Packing List:
| | | | |
| --- | --- | --- | --- |
| Name | Qty | Name | Qty |
| Instrument Main Body | 1 set | 10× Eyepiece | 1 pc |
| 5×、10× Objective | each 1 pc | Ф1mm, Ф2.5mm, Ф5mm Ball Indenter | each 1 pc |
| Large Plane Test Table | 1 pc | V-shaped Test Table | 1 pc |
| Screw Driver | 1 pc | Level | 1 pc |
| Horizontal Regulating Screw | 4 pcs | Hardness Block 90~120 HBW 2.5/62.5 | 1 pc |
| Hardness Block180~220 HBW 1/30 | 1 pc | Fuse 1A | 2 pcs |
| Power Cable | 1 pc | Inner Hexagon Spanner 2.5mm | 1 pc |
| Anti-dust Cover | 1 pc | Usage Instruction Manual | 1 copy |