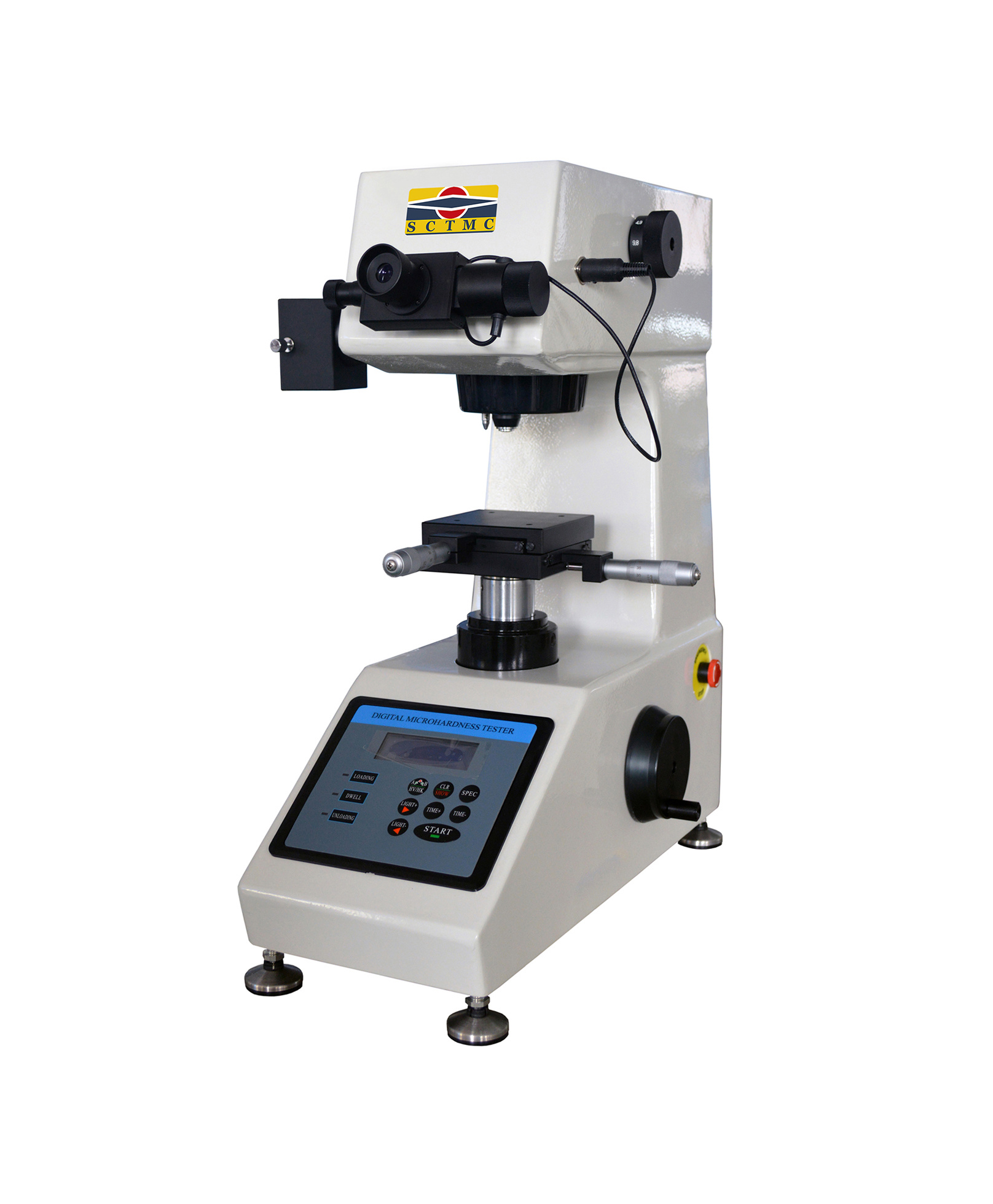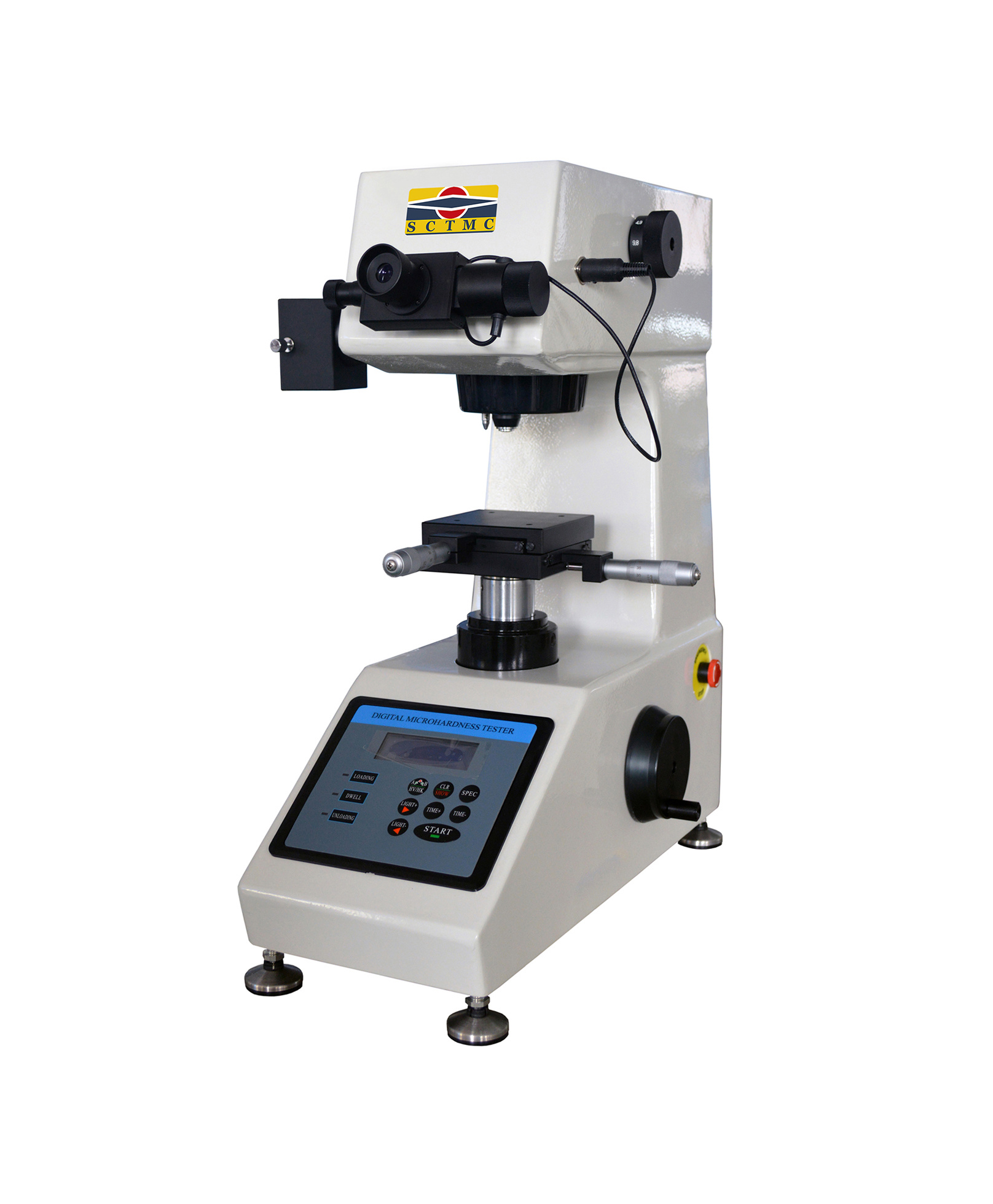 DHV-1000 / DHV-1000Z Digital Micro Vickers Hardness Tester
Main Function:
HV-1000 / HV-1000Z Digital Micro Vickers hardness tester adopts unique precision design on optics, mechanic and electrics features, make the indentation image clearer, and get more precise measurements. With digital measuring eyepiece, no need for checking the table or inputting the diagonal of the indentation, it can directly shows the test mode, test force, indentation length, dwell time, test numbers and conversion scale. As long as press the eyepiece button after measuring the indentation length, it can automatically get the hardness value and show on the screen. It can use optional Knoop indenter to measure Knoop hardness. And it can be equipped with LCD video measuring device and CCD image automatic measuring system.
Application range:
Suitable for ferrous metal, non-ferrous metals, IC thin sections, coatings, ply-metals; glass, ceramics, agate, precious stones, thin plastic sections etc.; hardness testing such as that on the depth and the trapezium of the carbonized layers and quench hardened layers.
Technical Specification:
Model

HV-1000

HV-1000Z

Test Force

gf

10gf, 25gf, 50gf, 100gf, 200gf, 300gf, 500gf, 1000gf

N

0.098N, 0.246N, 0.49N, 0.98N, 1.96N, 2.94N, 4.90N, 9.80N

Test Range

1HV~2967HV

Hardness Resolution

0.1HV

Loading Method

Automatic (Loading/Dwell/Unloading)

Shifting between Objective and Indenter

Manual Shifting

Automatic Shifting

Conversion Scale

HK, HRA, HRB, HRC, HRDW, HRGW, HRKW, HR15N, HR30N, HR45N, HR15TW, HR30TW, HR45TW, HBW

Eyepiece

10× Digital Measuring Eyepiece

Objective

10× (Observe),40× (Measure)

Total Magnification

100×,400×

Effective Field of View

200μm

Min. Measuring Unit

0.06μm

Dwell Time

0~60s

Light Source

Halogen Lamp

X-Y Test Table

Size: 100×100mm; Travel: 25×25mm; Resolution: 0.01mm

Max. Height of Specimen

90mm

Throat

100mm

Power Supply

AC220V,50Hz

Execute Standard

ISO 6507,ASTM E384,JIS Z2244,GB/T 4340.2

Dimension

480×325×545mm,

Packing Dimension: 600×360×800mm

Weight

Net Weight: 31kg,Gross Weight: 44kg
Packing List:
| | | | |
| --- | --- | --- | --- |
| Name | Qty | Name | Qty |
| Instrument Main Body | 1 set | 10×Digital Measuring Eyepiece | 1 pc |
| Diamond Micro Vickers Indenter | 1 pc | 10×、40× Objective | each 1 pc |
| Weights | 6 pcs | Weight Axis | 1 pc |
| Cross Test Table | 1 pc | Flat Clamping Test Table | 1 pc |
| Thin Specimen Test Table | 1 pc | Filament Clamping Test Table | 1 pc |
| Horizontal Regulating Screw | 4 pcs | Level | 1 pc |
| Fuse 1A | 2 pcs | Halogen Lamp 12V、15~20W | 1 pc |
| Power Cable | 1 pc | Screw Driver | 2 pcs |
| Hardness Block 400~500 HV0.2 | 1 pc | Hardness Block 700~800 HV1 | 1 pc |
| Anti-dust Cover | 1 pc | Usage Instruction Manual | 1 copy |