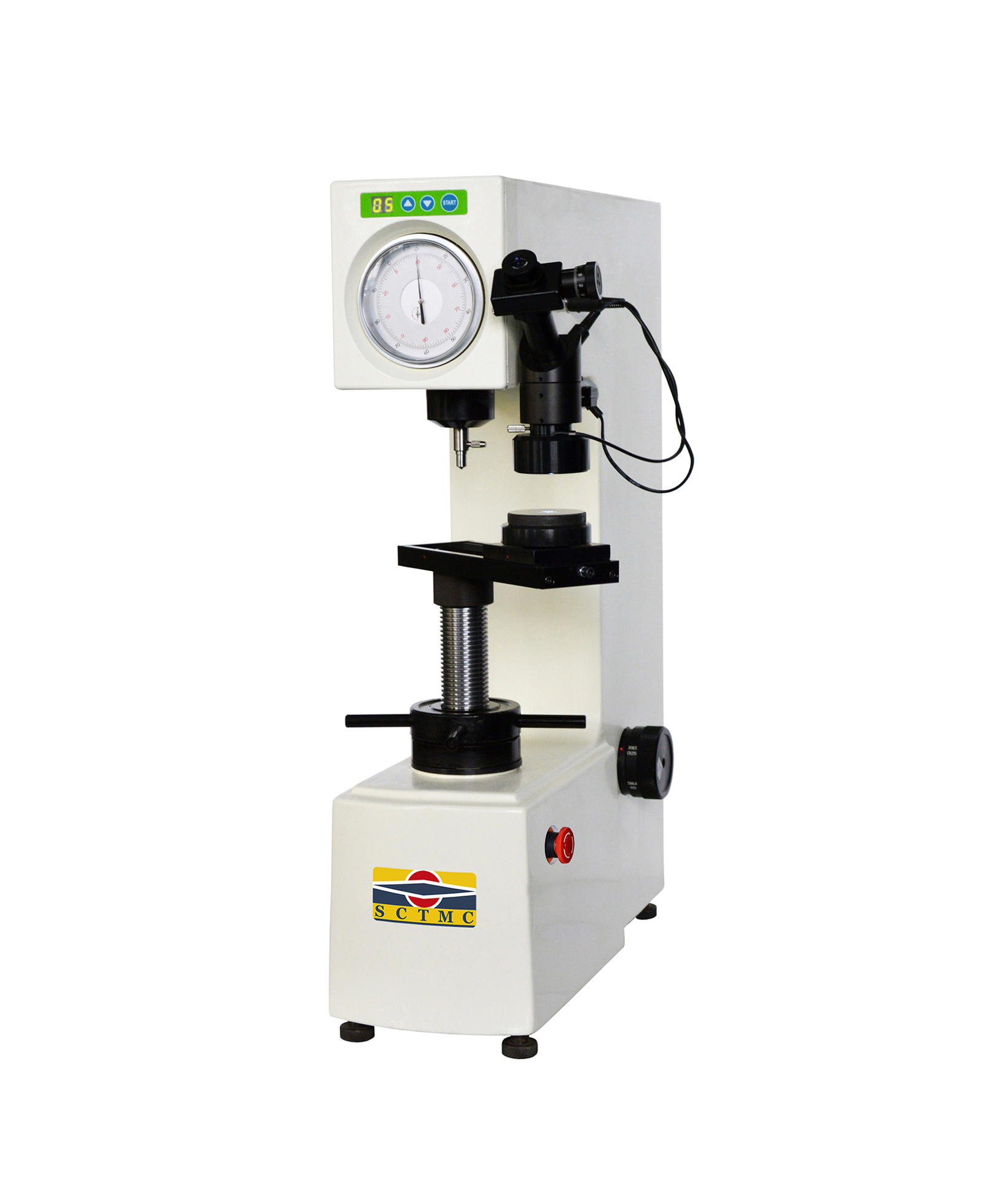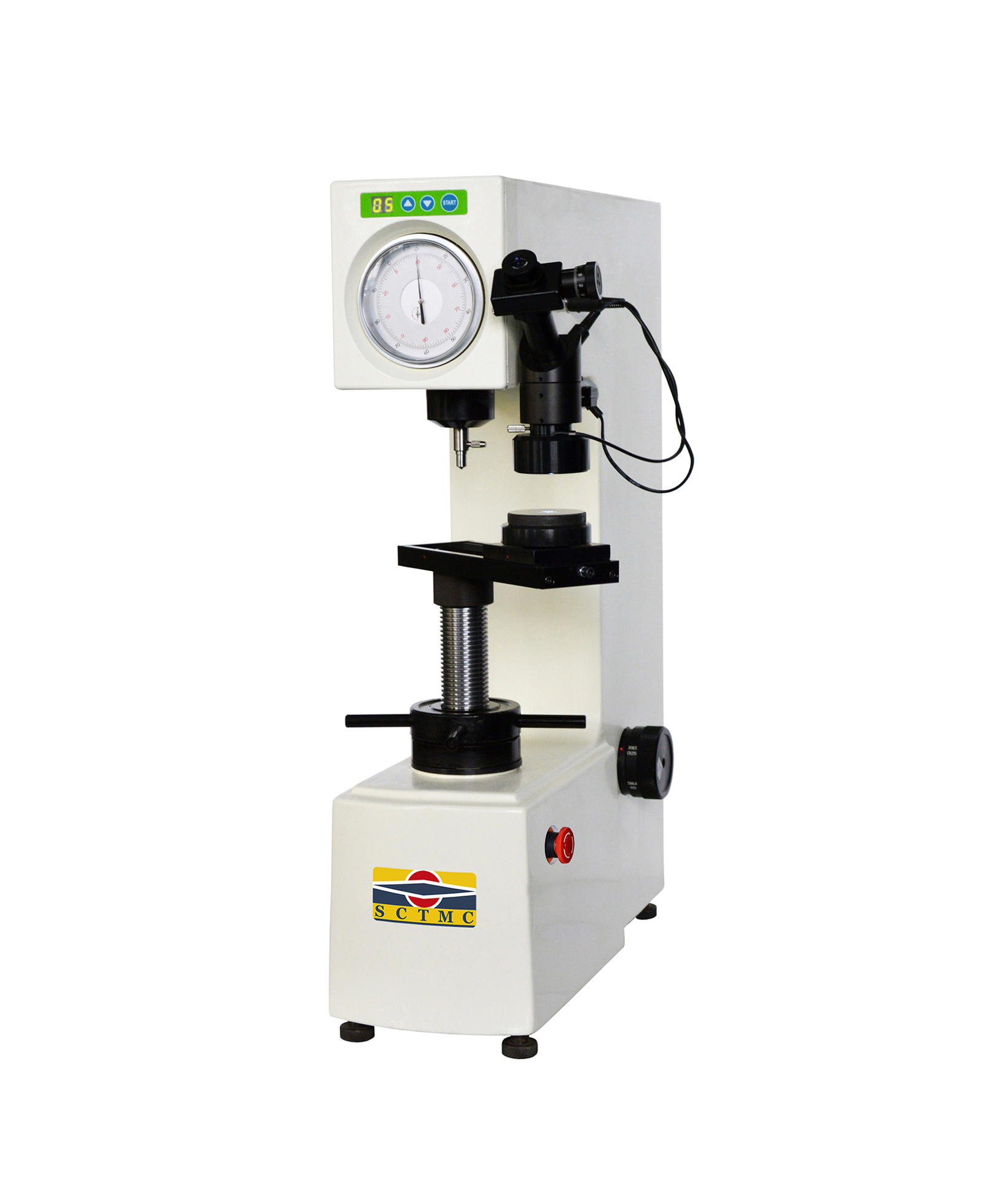 HBRV-187.5 Brinell Rockwell & Vickers Hardness Tester
Main Function:
HBRV-187.5 Brinell Rockwell & Vickers hardness tester is a multi-functional hardness tester with Brinell, Rockwell &Vickers three test modes and 7 level of test forces, which can test several kinds of hardness. Test force loading, dwell, unload adopts automatic system, widely used and easy to operate, therefore it is the popular machine for industrial enterprises and scientific research institutes.
Application range:
Suitable for hardened and surface hardened steel, hard alloy steel, casting parts, non-ferrous metals, various kinds of hardening and tempering steel and tempered steel, carburized steel sheet, soft metals, surface heat treating and chemical treating materials etc.
Technical Specification:
Model

HBRV-187.5

Rockwell Test Force

60kgf (588.4N), 100kgf (980.7N), 150kgf (1471N)

Brinell Test Force

30kgf (294.2N), 31.25kgf (306.5N), 62.5kgf (612.9N), 100kgf (980.7N), 187.5kgf (1839N)

Vickers Test Force

30kgf (294.2N), 100kgf (980.7N)

Indenter

Diamond Rockwell Indenter,

Diamond Vickers Indenter,

ф1.588mm, ф2.5mm, ф5mmBall Indenter

Hardness Reading

Rockwell: Dial,

Brinell & Vickers: Check Hardness Table

Magnification

Brinell: 37.5×, Vickers: 75×

Min. Measuring Unit

Brinell: 4μm, Vickers: 2μm

Hardness Resolution

Rockwell: 0.5HR,

Brinell & Vickers: Check Hardness Table

Dwell Time

2~60s

Max. Height of Specimen

Rockwell: 185mm, Brinell: 100mm, Vickers: 115mm

Throat

165mm

Power Supply

AC220V,50Hz

Execute Standard

ISO 6508,ASTM E18,JIS Z2245,GB/T 230.2

ISO 6506,ASTM E10,JIS Z2243,GB/T 231.2

ISO 6507,ASTM E92,JIS Z2244,GB/T 4340.2

Dimension

520×240×700mm,

Packing Dimension: 650×370×950mm

Weight

Net Weight: 80kg,Gross Weight: 105kg
Packing List:
| | | | |
| --- | --- | --- | --- |
| Name | Qty | Name | Qty |
| Instrument Main Body | 1 set | Diamond Rockwell Indenter | 1 pc |
| Diamond Vickers Indenter | 1 pc | ф1.588mm, ф2.5mm, ф5mmBall Indenter | each 1 pc |
| Slipped Test Table | 1 pc | Middle Plane Test Table | 1 pc |
| Large Plane Test Table | 1 pc | V-shaped Test Table | 1 pc |
| 15× Digital Measuring Eyepiece | 1 pc | 2.5×, 5× Objective | each 1 pc |
| Microscope System (include the inside light and outside light) | 1 set | Hardness Block 150~250 HBW 2.5/187.5 | 1 pc |
| Hardness Block 60~70 HRC | 1 pc | Hardness Block 20~30 HRC | 1 pc |
| Hardness Block 80~100 HRBW | 1 pc | Hardness Block 700~800 HV30 | 1 pc |
| Weights 0, 1, 2, 3, 4 | 5 pcs | Power Cable | 1 pc |
| Fuse 2A | 2 pcs | Horizontal Regulating Screw | 4 pcs |
| Level | 1 pc | Spanner | 1 pc |
| Screw Driver | 1 pc | Anti-dust Cover | 1 pc |
| Usage Instruction Manual | 1copy | | |