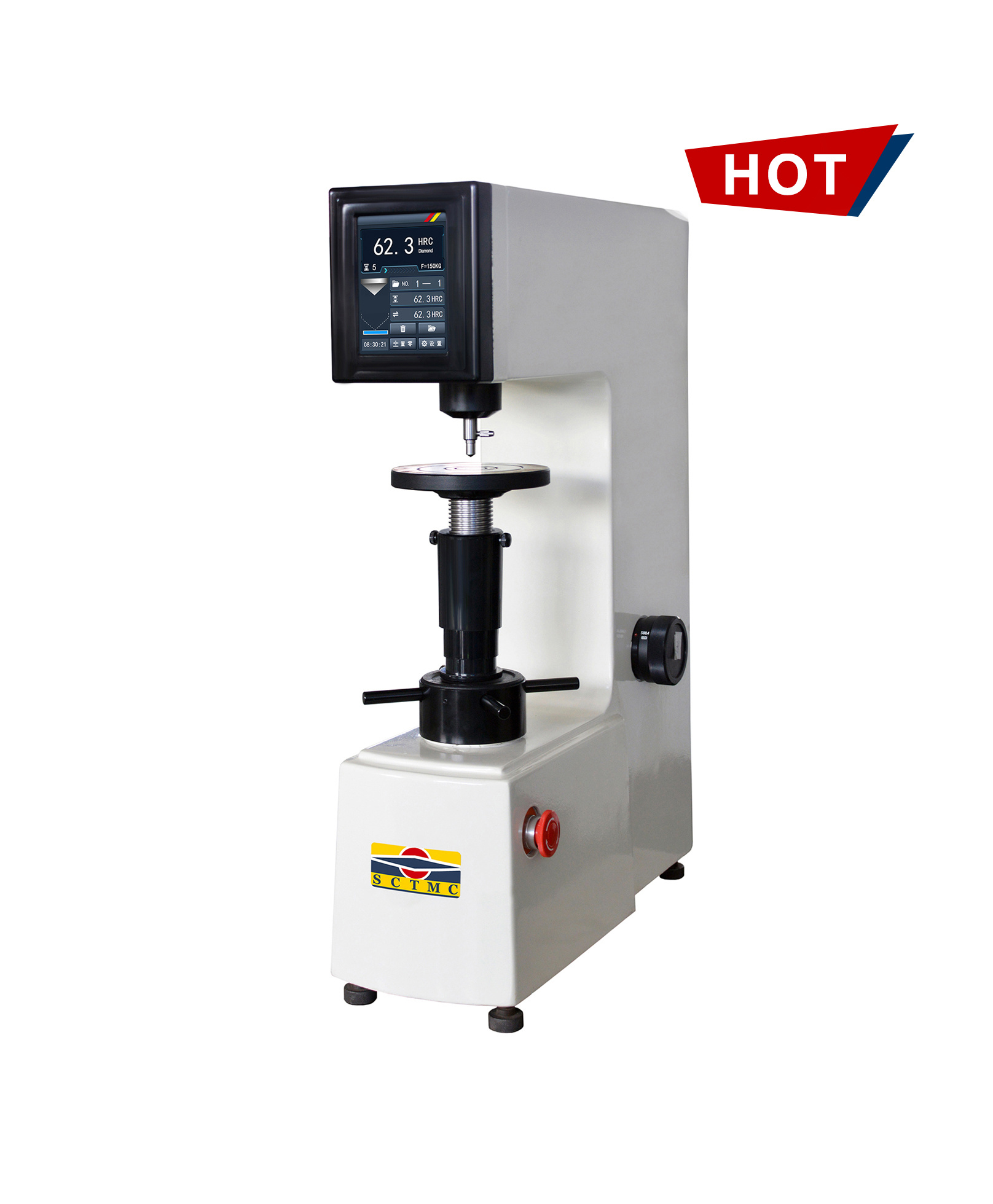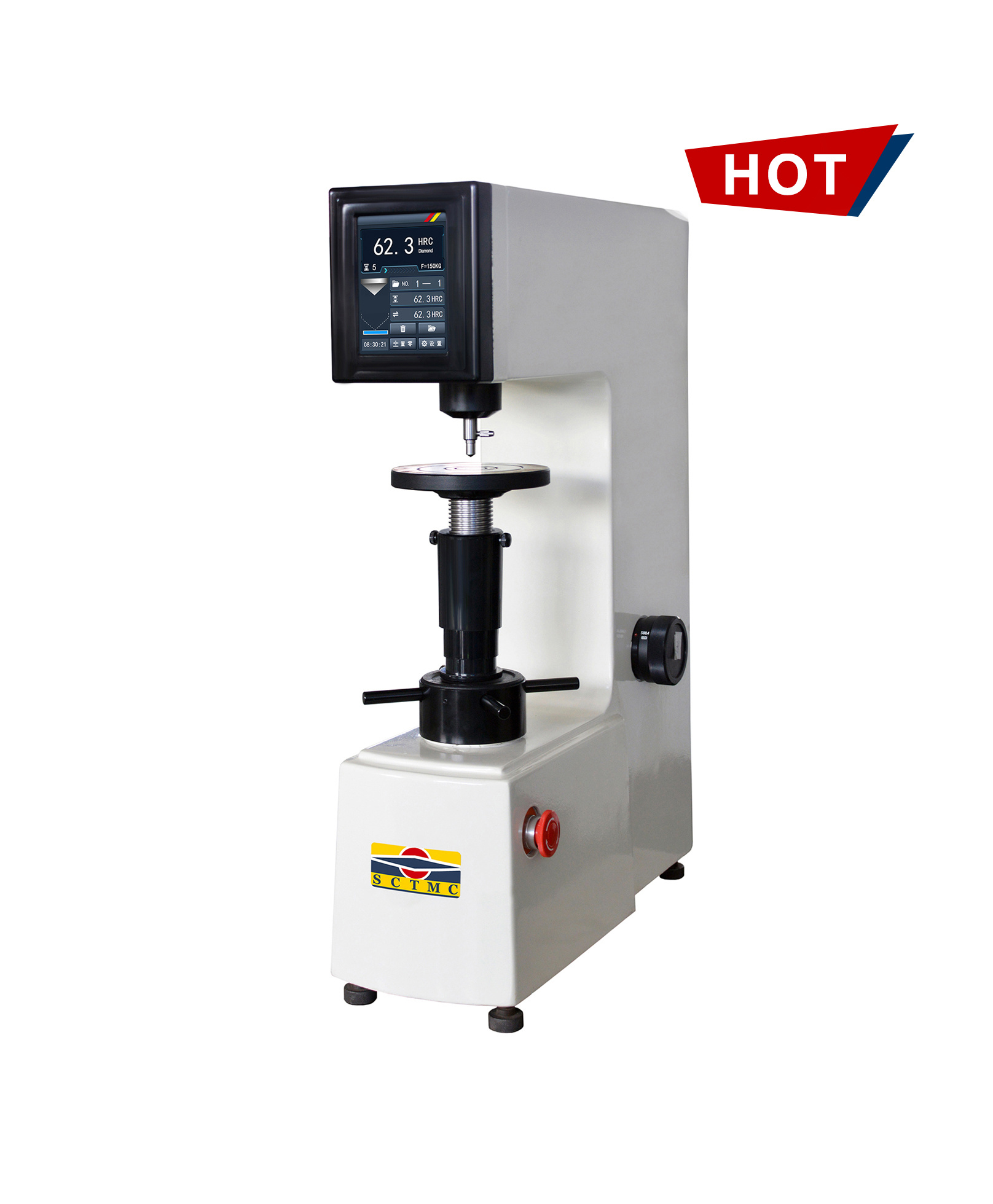 HRS-150 Digital Rockwell Hardness Tester
Main Function:
HRS-150 Digital Rockwell hardness tester adopts the high resolution color touch screen with high brightness display. It has a good reliability, excellent operation and easy watching, so it is a high-tech product combining the mechanic and electric features. It can show and set the present scale, test force, test indenter, dwell time and hardness conversion; the main function is as follows: Selection of all the Rockwell scales; Conversion scales of different kinds of hardness; Display backlight adjustable with energy-saving mode; Real time data saving in the folder, totally six folders, the data can be arbitrary deleted and printed out; Test results can be saved in real time with automatic calculation of maximum, minimum and average value; The interface is visual and clear, very easy to operate; With RS232 interface for connecting to the computer.
Application range:
Suitable for quenched steel, tempered steel, annealed steel, cold and hard casting, malleable cast iron, hard alloy steel, aluminum alloy, copper alloy, bearing steel etc.
Technical Specification:
Model

HRS-150

Initial Test Force

10kgf (98.07N)

Total Test Force

60kgf (588.4N), 100kgf (980.7N), 150kgf (1471N)

Indenter

Diamond Rockwell Indenter,

ф1.588mmBall Indenter

Loading Method

Automatic (Loading/Dwell/Unloading)

Hardness Reading

Touch Screen Display

Test Scale

HRA, HRD, HRC, HRFW, HRBW, HRGW, HRHW, HREW, HRKW, HRL, HRM, HRP, HRR, HRS, HRV

Conversion Scale

HV, HK, HRA, HRBW, HRC, HRD, HREW, HRFW, HRGW, HRKW, HR15N, HR30N, HR45N, HR15TW, HR30TW, HR45TW, HS, HBW

Data Output

Built-in Printer,RS232 Interface

Hardness Resolution

0.1HR

Dwell Time

0~60s

Max. Height of Specimen

185mm

Throat

165mm

Power Supply

AC220V,50Hz

Execute Standard

ISO 6508,ASTM E18,JIS Z2245,GB/T 230.2

Dimension

520×215×700mm,

Packing Dimension: 650×370×950mm

Weight

Net Weight: 78kg,Gross Weight: 100kg
Packing List:
| | | | |
| --- | --- | --- | --- |
| Name | Qty | Name | Qty |
| Instrument Main Body | 1 set | Diamond Rockwell Indenter | 1 pc |
| ф1.588mmBall Indenter | 1 pc | Middle Plane Test Table | 1 pc |
| Large Plane Test Table | 1 pc | V-shaped Test Table | 1 pc |
| Hardness Block 60~70 HRC | 1 pc | Hardness Block 20~30 HRC | 1 pc |
| Hardness Block 80~100 HRBW | 1 pc | Weight A, B, C | 3 pcs |
| Power Cable | 1 pc | Fuse 2A | 2 pcs |
| Level | 1 pc | Horizontal Regulating Screw | 4 pcs |
| Inner Hexagon Spanner | 1 pc | Spanner | 1 pc |
| Anti-dust Cover | 1 pc | Usage Instruction Manual | 1 copy |