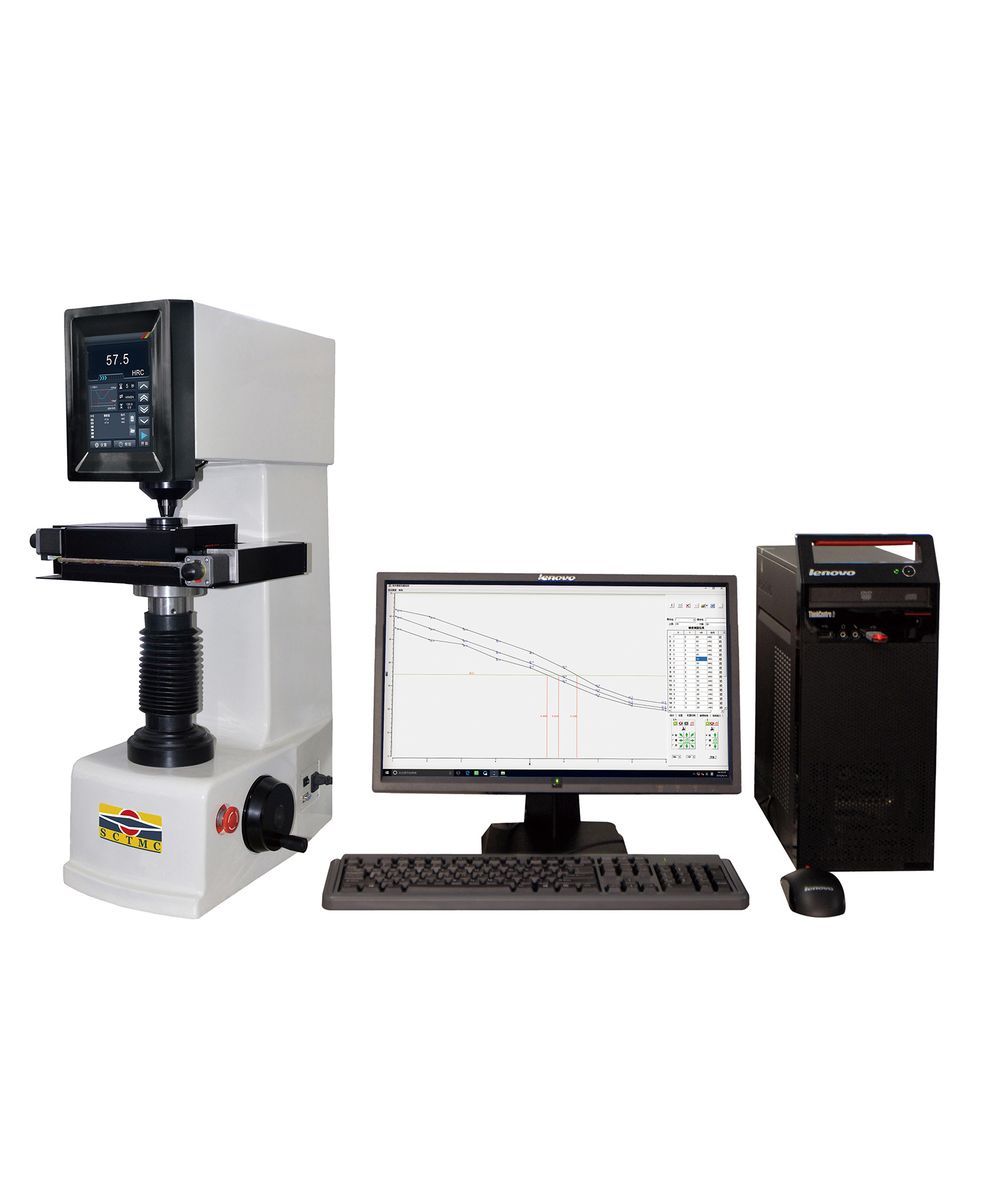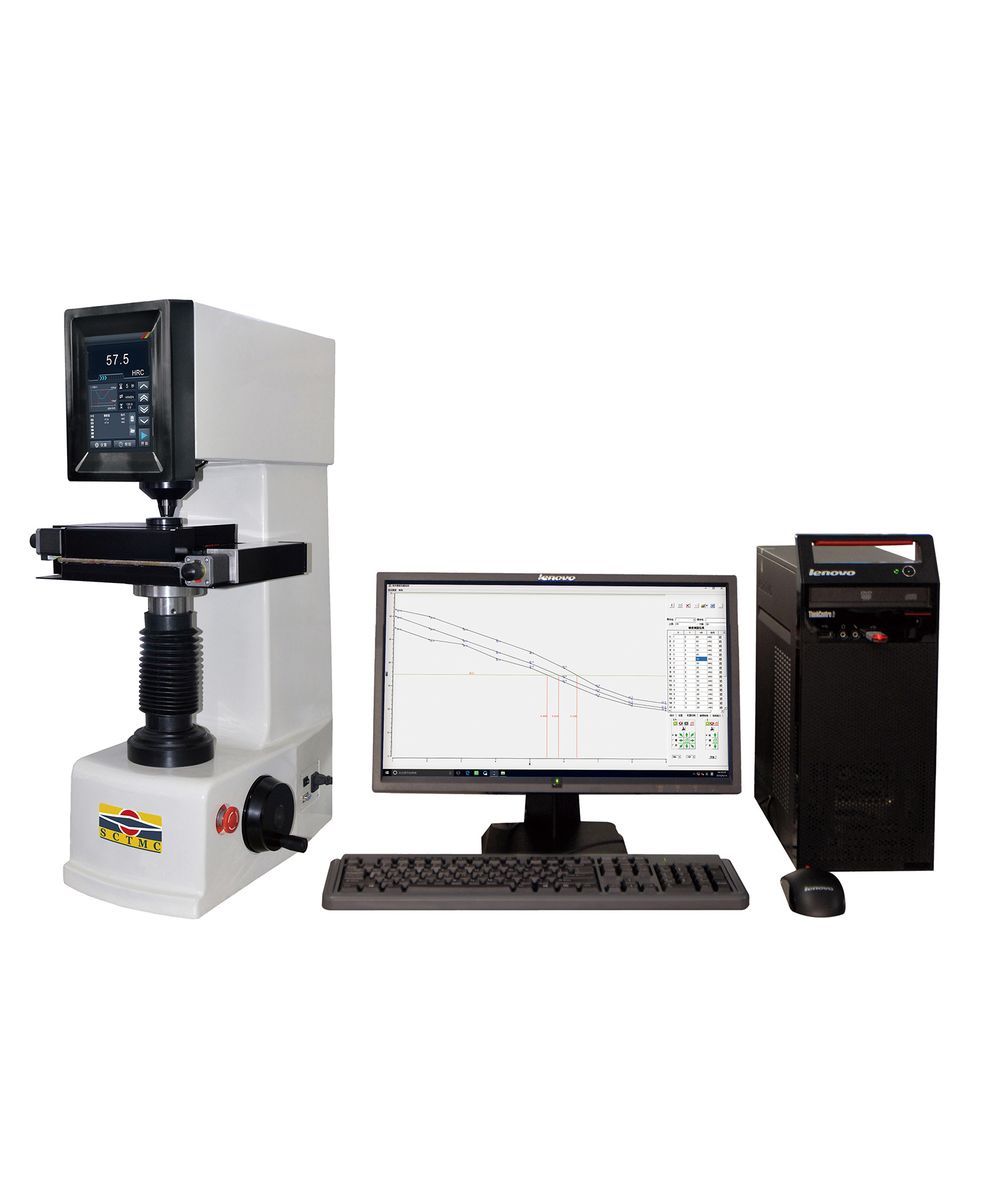 560RSSZ/V3.0 Fully Automatic Rockwell Hardness Tester
Main Function:
560RSSZ/V3.0 Fully automatic Rockwell hardness tester with a good aesthetic aspect, complete functions, easy operation, intuitive display and good reliability, is a high-tech product combining the mechanic and electric features. This instrument adopts the electric loading and unloading of test force instead of the weights, which can test all the Rockwell and superficial Rockwell hardness scales. It has fully automatic and manual operation function, XYZ automatic control, which is suitable for jominy end-quench test. With external PC computer, it has statistical function which can calculate the extreme value, average value, standard deviation, etc. and also can establish the corresponding statistics database. Statistics database allows inputting the detection data from other devices which can be used together for statistical analysis. The test report can be customized according to the user's requirements, in the report you can select the test parameters, test results and the curve chart. The test results and test report can carry out network transmission and allows other computers to use the data to realize the network management.
Support for all the Rockwell and superficial Rockwell scales;

Support for conversion scales of different kinds of hardness;

With arc correction function;

Touch screen display and operation, dynamically display the working state of the lifting screw and the indenter;

Controlled by the computer, full range of XYZ mobile, fast and accurate;

One key to complete the rising of the specimen, loading dwell and unloading of the indenter, displaying of the hardness value, homing of the test table; With the X-Y motorized test table, it can do the continuous test according to the path setting;

With data storage function, automatic calculation of the maximum, minimum, average of the hardness value, the test results can be selected to delete and print out, and the software can generate the WORD report.
Application range:
Suitable for quenched steel, tempered steel, annealed steel, cold and hard casting, malleable cast iron, hard alloy steel, aluminum alloy, copper alloy, bearing steel etc. Also suitable for surface quenched steel, surface heat treating and chemical treating materials, sheet, zinc layers, chrome layers, tin layers etc.
Technical Specification:
Model

560RSSZ/V3.0

Initial Test Force

3kgf (29.42N), 10kgf (98.07N)

Total Test Force

15kgf (147.1N), 30kgf (294.2N), 45kgf (441.3N),

60kgf (588.4N), 100kgf (980.7N), 150kgf (1471N)

Indenter

Diamond Rockwell Indenter,

Φ1.588mmBall Indenter

Loading Method

Automatic (Loading/Dwell/Unloading)

X-Y Test Table

Size: 250×160mm, Travel: 100×100mm, Dimension: 365×300×140mm,Resolution: 1μm

The test table has multi-point settings, one key operation to achieve multi-point automatic test function. And it can add other functions according to customers' requirement!

Operation

Automatic or Manual Lifting Screw, Automatic Rising and Homing, One Key to Complete

Display

Touch Screen, Menu Selection, Hardness Display, Parameter Setting, Data Statistics, Storage, etc.

Data Statistics

Test Number, Average / Maximum / Minimum Value, Repeatability, Set Upper and Lower Limits of Hardness Value with Warning Function, etc.

Test Scale

HRA, HRD, HRC, HRFW, HRBW, HRGW, HRHW, HREW, HRKW, HRL, HRM, HRP, HRR, HRS, HRV

HR15N, HR30N, HR45N, HR15TW, HR30TW, HR45TW, HR15W, HR30W, HR45W, HR15X, HR30X, HR45X, HR15Y, HR30Y, HR45Y

Conversion Scale

HV, HK, HRA, HRBW, HRC, HRD, HREW, HRFW, HRGW, HRKW, HR15N, HR30N, HR45N, HR15TW, HR30TW, HR45TW, HS, HBW

Data Output

USB Interface, RS232 Interface

Hardness Resolution

0.1HR

Dwell Time

0~99s

Max. Height of Specimen

210mm

Throat

150mm

Power Supply

AC220V,50Hz

Execute Standard

ISO 6508,ASTM E18,JIS Z2245,GB/T 230.2

Dimension

535×410×890mm,

Packing Dimension: 820×460×1170mm

Weight

Net Weight: 85kg,Gross Weight: 105kg
Packing List:
| | | | |
| --- | --- | --- | --- |
| Name | Qty | Name | Qty |
| Instrument Main Body | 1 set | Diamond Rockwell Indenter | 1 pc |
| ф1.588mmBall Indenter | 1 pc | X-Y Motorized Test Table | 1 pc |
| Inner Hexagon Spanner | 1 pc | Spanner | 1 pc |
| Hardness Block 60~70 HRC | 1 pc | Hardness Block 20~30 HRC | 1 pc |
| Hardness Block 80~100 HRBW | 1 pc | Hardness Block 70~85 HR30TW | 1 pc |
| Hardness Block 65~80 HR30N | 1 pc | Fuse 2A | 2 pcs |
| Power Cable | 1 pc | Anti-dust Cover | 1 pc |
| Usage Instruction Manual | 1 copy | Computer | 1 set |
| Measuring Software | 1 set | Control Cables | 1 set |